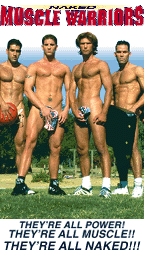 ORDER NOW
Naked Muscle
Warriors
Must be 18+ to order
---
Watch The Naked Muscle
Warriors Video Trailer!
(New MP4 format)
Compatible with Adobe Flash Player,
Windows Media, DivX, Real Player,
VLC & Quicktime.

---

Unrated
Full Frontal Nudity
60 minutes
$39.95
DVD or VHS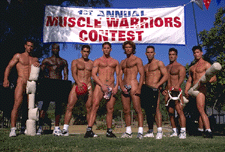 Fighting for the title, NAKED MUSCLE WARRIOR CHAMPION, eight handsome hard-bodied studs battle each other in fierce athletic competitions, ending with the losers conceding their uniforms and jocks to the winners.


See these sexy hot men flex their muscular bodies as they struggle to top one another in six sweaty grueling events, from tug of war, resistance wrestling, and beam bash finale, each one of these incredibly sexy athletes runs completely naked through a challenging obstacle course of hurdles, water tunnels and rope swings to a flying leap for the finish line.


Nothing is left to the imagination as you watch the astonishing strength and beauty of these eight gorgeous men in up close man-to-man athletic action.

Click on any of these pictures for a closer look
at these buffed-out muscle men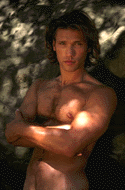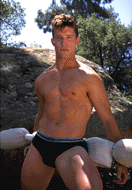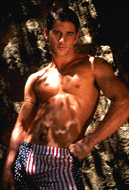 Click to sample selected scenes