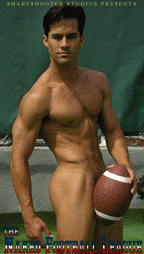 ORDER NOW
The Naked
Football League
Must be 18+ to order
---
Watch The Naked Football League VideoTrailer!
(New MP4 format)
Compatible with Adobe Flash Player,
Windows Media, DivX, Real Player,
VLC & Quicktime.

---

Unrated
Full Frontal Nudity
75 minutes
$39.95
DVD or VHS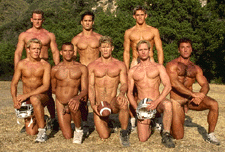 It's Football Season and some of the country's most stunning young athletes are staking their clothes in the Naked Football League. That's right, after every hard-fought play either the offense or the defense must "take it off." Soon these rugged men are blocking, passing, rushing and heading for the end zone without their jerseys, shorts or jocks, ending up playing in nothing at all.


See every inch of these magnificent young men as they competitively struggle in the nude. You'll even hit the locker room and showers with them for a closer, more intimate look at these world class hunks. So sign up and join the Naked Football League for an unforgettable sporting experience.

Click on any of these pictures for a closer look
at these buffed-out muscle men