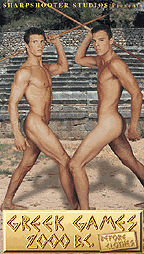 ORDER NOW
Greek Games
2000 B.C.
Must be 18+ to order
---
Watch The Greek
Games VideoTrailer!
(New MP4 format)
Compatible with Adobe Flash Player,
Windows Media, DivX, Real Player,
VLC & Quicktime.

---

Unrated
Full Frontal Nudity
90 minutes
$49.95
DVD or VHS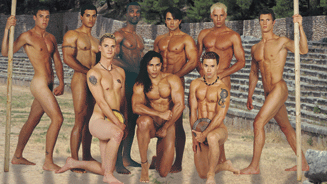 With the bodies of Greek gods, nine amazing athletes compete in six challenging contests that honor the centuries-old tradition of nude combat. Using only the power of their naked bodies, these chiseled young men hurl javelins and discus, challenge the low bar and snare their naked prey with hooks and nets like gladiators. Their pumped-up bodies struggle and strain against each other in the full body contact of eight intense wrestling matches. And between events, these statuesque sportsmen show off their perfectly formed nude bodies in detailed close-ups. Let the games begin!

Click to sample selected scenes