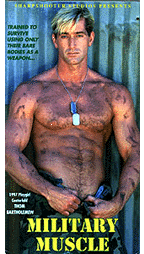 ORDER NOW
Military Muscle

Must be 18+ to order
---
Watch The Military
Muscle VideoTrailer!
(New MP4 format)
Compatible with Adobe Flash Player,
Windows Media, DivX, Real Player,
VLC & Quicktime.

---

Unrated
Full Frontal Nudity
90 minutes
$49.95
DVD or VHS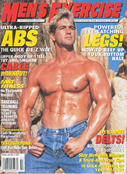 Starring
Tom Bartholomew
Men's Exercise
Nov 2000
Cover Man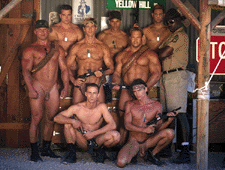 Trained to survive using only their bare bodies as a weapon...


Eight naked men are going to war-- at least for the weekend-- and the world's toughest drill sergeant has just two days to whip them into a fighting unit. When marching and calisthenics don't work, the weekend warriors move into the field with paintball weapons and then naked hand-to-hand combat. Anything goes as these great looking nude hunks stalk, trap and battle each other in the wilderness with the losers tied up naked at the stake.


A great military fantasy for everyone who loves men in, and out of uniform!
Click on any of these pictures for a closer look
at these buffed-out muscle men