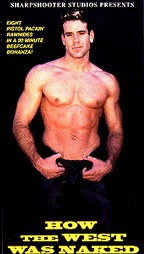 ORDER NOW
How the West
was Naked
Must be 18+ to order
---
Watch How the West
was Naked Video Trailer!
(New MP4 format)
Compatible with Adobe Flash Player,
Windows Media, DivX, Real Player,
VLC & Quicktime.

---

Unrated
Full Frontal Nudity
100 minutes
$49.95
DVD or VHS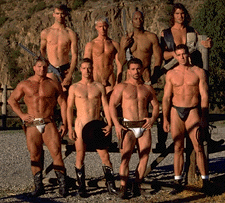 The Old West at its bare naked best- full of the handsomest pistol packin' cowboys, working and playing in the nude. Eight of America's most buffed-out broncos, including three playgirl centerfolds, show you How the West Was Naked!


They're ridin' bareback, pitchin' hay, robbin' the stagecoach, chasin' Indians, crackin' the bullwhip, takin' their Saturday night bath, facin' off at high noon and playin' strip seven card stud at the saloon. And when this Magnificent Eight take the stage for a mass strip off, you'll want to stay in Tombstone forever!

Click on any of these pictures for a closer look
at these buffed-out muscle men

Click to sample selected scenes