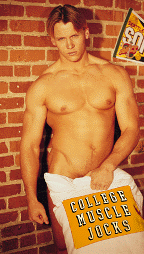 ORDER NOW
College Muscle Jocks
Must be 18+ to order
---
Watch The College
Muscle Jocks Trailer!
(New MP4 format)
Compatible with Adobe Flash Player,
Windows Media, DivX, Real Player,
VLC & Quicktime.

---

Unrated
Full Frontal Nudity
90 minutes
$49.95
DVD or VHS



Starring Men's
Workout Magazine's
June 1999 Coverman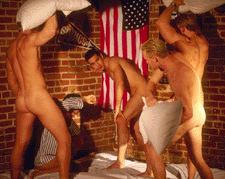 It's back to college as eight stunning, buffed-out centerfolds invite you to a skin-filled fraternity weekend of hazing, rowdiness and naked fun! After the secret nude initiation of the freshmen it's a non-stop party with nude workouts at the gym, towel-snapping in the showers, stripper parties at the bar and pillow fights in the dorm. Then catch each frat stud alone in a private fantasy showing off his naked muscular body just for you.


Once you see these great looking college boys, you'll join the fraternity!

Click on any of these pictures for a closer look
at these buffed-out muscle men