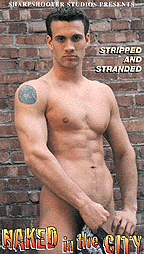 ORDER NOW
Naked in the City
Must be 18+ to order
---
Watch The Naked in the City Video Trailer!
(New MP4 format)
Compatible with Adobe Flash Player,
Windows Media, DivX, Real Player,
VLC & Quicktime.

---

Unrated
Full Frontal Nudity
90 minutes
$49.95
DVD or VHS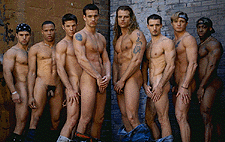 Meet the new boys in the hood - eight of the hardest, toughest, hunkiest, muscled young studs that ever tried to expand their turf. Their plans are thwarted when they're forced to strip off all their clothes and find their way home Naked in the City. Watch bands of these incredible hot nude guys roaming the streets, alleys, warehouses and rooftops of the inner city, finally climaxing in a wild naked free-for-all rumble.


Don't miss this amazing urban fantasy!

Click on any of these picture for a closer look
at these buffed-out muscle men

Click to sample selected scenes