Sharpshooter Studios – Naked Muscle Nude Men DVD/Video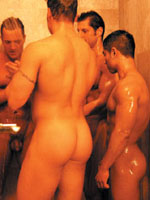 SHARPSHOOTER STUDIOS BRINGS YOU THE FINEST NUDE MALE VIDEOS.
Our fun-spirited productions feature groups of athletes, bodybuilders,
Playgirl centerfolds, models and Chippendale dancers, stripping and
performing naked in sporting events, posing sessions and natural settings.
• THE BIGGEST FITNESS STARS!!!
• THE HOTTEST PLAYGIRL CENTERFOLDS!!!
• ALWAYS THE NEWEST AND FRESHEST UNDISCOVERED YOUNG MEN!!!
• THE MOST NUDE MEN ON THE SCREEN AT THE SAME TIME!!!
THERE IS SOMETHING FOR EVERYONE AT SHARPSHOOTER!

• MUSCLE MOVIES- themed muscle adventures on an epic scale.
• NUDE SPORTS- beautiful naked athletes battle it out!
• STRIP & FANTASY- a non-stop parade of private lap dances.
• SOMETHING SPECIAL- unique and different videos you won't find anywhere else.


SIX REASONS WHY WE ARE THE BEST!

•
We have the most models featured in the best fitness magazines, such as Mens' Workout, Exercise For Men Only, Men's Exercise, Gym Magazine & Burn Magazine.
•
We shoot the most Playgirl centerfolds.
•
We have the freshest faces. Most of the men in all our videos have never been
seen in any other productions.
•
We have the most undiscovered talent. All our videos have new men. Unlike
other companies, we don't have to repeat the same faces over and over again.
•
Our videos have the highest production values. Our videos average 8-9 NEW
models each with running times of 90 minutes. All our videos are at least 60 min.
and have at least 6 models.
•
We are the only company that shows every video's models performing naked in
the same shot. Imagine 9 muscular Fitness covermen and Playgirl centerfolds showing off their nude bodies shoulder to shoulder.
x

You're right on target with Sharpshooter Studios!